Stars 'n Stripes Pillow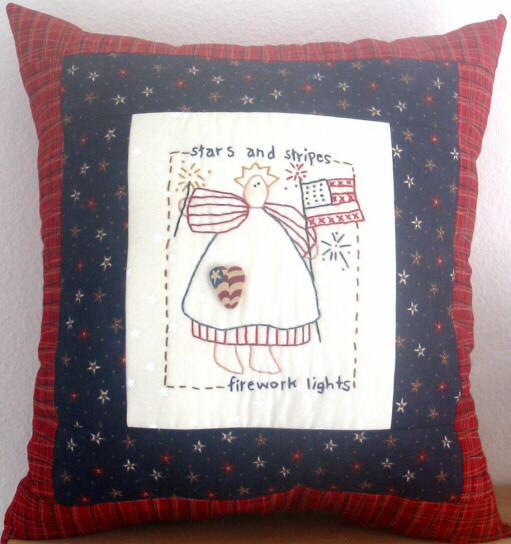 "Stars and Stripes...Firework Lights"
Design from Calendar Quilts & Stitcheries by Art to Heart.
Middle background fabric is cream with little off-white stars. The inside border fabric is navy with primitive stars, and the outside border fabric is a red/navy plaid. The pillow is backed in a coordinating primitive star print on red. Cute flag heart button on girl's dress.
Approx. Size: 14" x 16"
*Fabrics may vary from picture above depending on availability. If new fabrics and/or buttons are used, you will be notified before shipment.*
Pricing
| Description | Price | Order |
| --- | --- | --- |
| Stars 'n Stripes Stitchery Pillow | $24.50 | |



Belinda Pedersen / Owner
1031 N. 500 W.
Orem, UT 84057

Home | Mini Quilts | Hangers | Home Decor | Patterns | Buttons | Stitcheries
Americana | Spring | Fall | Christmas | Quilt-A-Month Club
Guestbook | Printable Order Form | Shipping | Contact Us
View Cart | Check Out


All contents of this website are property of Patchwork & Paint.
© 2002-2003 Patchwork & Paint - All rights reserved.
Site Design by Just Heavenly Creative Design