Quilt Kit-a-Month Club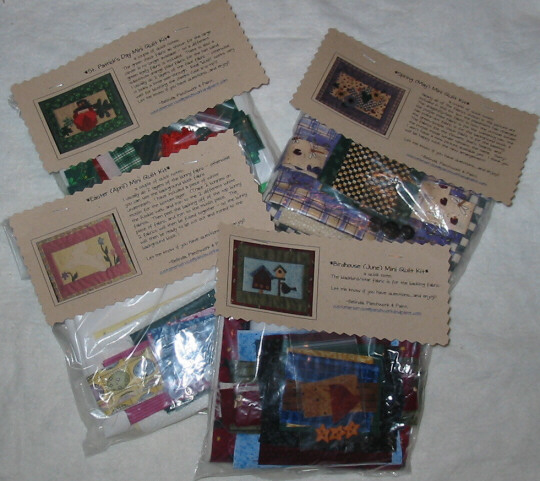 *click on picture to view larger*
...the perfect accessory to the "Through the Year" pattern made by Art to Heart!
Have fun making the quilt yourself, but without the hassle of searching for the perfect fabrics & buttons!
*When you subscribe to the Quilt Kit-a-Month Club your quilt hanger is FREE!*
How the Quilt Kit Club Works:
Each month you will receive a new mini quilt kit!! Each kit includes pre-cut fabric (same fabrics used in the completed mini quilts), batting, buttons, and fusible adhesive. Instructions are not included for copyright reasons - the kit is meant to be an accessory to the pattern book. The kit you will receive will be for the following month. For example, if it is June, you will receive the July quilt kit, or if it is July you will receive the August quilt kit. This way you will have your kit in plenty of time to put it together & display it for the upcoming holiday or season. The quilt hanger will be included with your first shipment. If you subscribe to the Club using your credit card, your card will be charged on a monthly basis. You may choose to be billed on the 10th or the 25th of each month. (Your first quilt kit will be billed on the day you sign up, but you will be billed on the 10th or the 25th every month thereafter.) If you would prefer to make monthly payments with a personal check or money order, you may subscribe using our order form, or simply select money order/check in the shopping cart. Also please note, the shopping cart will automatically add $7.00 for shipping, but you can ignore this amount because it does not apply to the Quilt Kit Club.
*If you have purchased one or more of the quilt kits in the past, and do not need the entire set, you are still welcome to join the Club! There is only a 6 month minimum subscription. Please contact our Customer Service department with further questions! Thank you!*
Pricing
Description

Price

Order

Quilt Kit-A-Month Club

*(Full Year Subscription)*

$9.00/month + $1.30 shipping = $10.30 total/month

Bill on the 10th: Bill on the 25th:

You will also need to order the Art to Heart pattern, "Through the Year" (unless you already have access to the pattern). The pattern is NOT included with the kits due to copyright reasons.

"Through the Year" pattern by Art to Heart

$9.50

If you would like to purchase more than one quilt kit, but you do NOT want to purchase the entire year, please use the "Add to Cart" button below, and indicate (in the shopping cart) how many kits you would like to purchase.
Quilt-Kit-A-Month Club

$10.30/month

Bill on the 10th:

Bill on the 25th:

Patchwork & Paint
Belinda Pedersen / Owner
1031 N. 500 W.
Orem, UT 84057
(801) 376-8152

Send mail to customerservice@patchworkandpaint.com
with questions or comments about this web site.

Home | Mini Quilts | Hangers | Home Decor | Patterns | Buttons | Stitcheries
Americana | Spring | Fall | Christmas | Quilt-Kit-A-Month Club
Guestbook | Printable Order Form | Shipping | Contact Us
View Cart | Check Out

All contents of this website are property of Patchwork & Paint.
© 2002-2006 Patchwork & Paint - All rights reserved.
Site Design by Just Heavenly Creative Design